PUBG
Choosing either TPP or FPP on PUBG can be difficult. Players consistently do TPP versus FPP correlation, and there are no closure discussions. PUBG began with TPP as the main mod. Most of the players appreciated it while those from FPP Origins didn't. Consequently, the greater part of the CS, Battlefield, and COD players asked PUBG Corp to include FPP. First Person mode was at last included and the game blasted in the coming years. Nowadays players can play both modes. However, most of the players prefer playing just one. This is because of the different playstyle and inconsistencies in performance.
I've played PUBG over 3000+ Hours, and I can certainly tell you that both modes can be enjoyable and exhausting. The answer to TPP vs FPP is quite difficult, but I'll break it down.
PUBG On Nintendo Switch Might Happen This Year
Movement in FPP vs TPP
The Movement in TPP is much more Flexible. You get a large field of view option with that Third Person Camera. Moreover, quickly grabbing cover, dodging bullets, and rushing to spot is also easy. In FPP However, you will have to work with a limited field of view. Decisions like moving to cover or running are taken quickly. Further, in FPP you cannot see the enemy while being prone in the grass or hiding behind a hut. TPP allows you to hide and still see enemies.
TPP Players take advantage of this feature and grab positions to hide. Once they see an enemy rushing towards then, they quickly stand up and kill the enemy. It is frustrating for the enemy who is not aware of how many people can see him. On the other hand, FPP offers a more realistic experience. Playing in FPP is like if you were in a war yourself.
The Last of Us Part 2 is Reportedly Banned in the Middle East
Combat
Combat is mostly the same in FPP and TPP. It is because of the way guns work is quite similar. However, when we look at overall combat differences in TPP vs FPP, there is much more to it. In TPP, you can hide behind a tree and still watch the enemy. This means that combats are much longer in TPP. Players are allowed to heal and recover, while still watch their surroundings. If you are playing offensive in TPP, it is all about predicting where your enemies are. FPP is quite different though.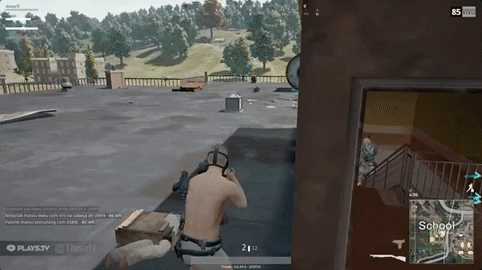 In FPP, if your health is low, or you need to recover. There is a significantly lower time. Enemies will instantly rush you because they know you are healing and there is no way you can push them back. FPP players rely on footsteps hearing and act accordingly. The Fights are quite competitive, and good players take advantage of positioning to win duels. The footsteps part is complicated, Most players aren't equipped with decent sound hardware. Hence, they cant hear enemy footsteps properly.
On the other hand, TPP Matches also tend to last longer. Most Players fear that everyone is able to watch them. Hence, everyone tends to play safe and hide. On the other hand, FPP forces players to push each other, and clear surroundings.
ESports & Competitive
When first PUBG Tournaments were hosted. There was just Third Person Option, and the players of that time genuinely didn't appreciate it. Players like Shroud, Grimzz, and Andypyro were one of the first to play PUBG Beta Tournaments. The TPP tournaments still happened, even after FPP was added and PUBG left beta mode. However, the popularity of TPP tournaments dropped significantly.
PS4 Open Series 2020 Prizes, Games, and Details
PUBG is already heavily dependent on luck and other factors. The TPP Camera Advantage simply changed the meta of the game. Moreover, TPP also made PUBG ESports look dull. On the other hand, the FPP mode was quite interesting. The game was filled with surprises and competitiveness. Unpredictability became an important factor, and FPP Tournaments became enjoyable to watch.
Speaking of 2020, 90% of PUBG ESports is circled by FPP. Almost all major tournaments happen in FPP mode. The TPP significance in PUBG ESports has dropped so much that the basic ESports platforms like Faceit are not even offering TPP Matchmakings.
Gameplay in FPP and TPP
Overall, gameplay in both modes is enjoyable. It strictly depends on the player who prefers which mode. However, since this article is based on TPP vs FPP mode, we will compare the gameplay.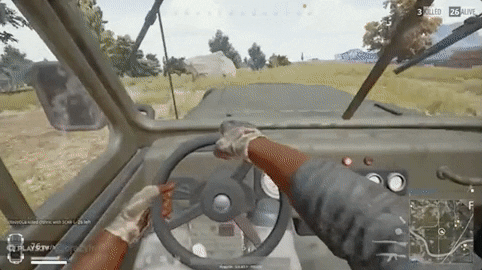 In TPP, players can easily navigate. When driving, you get a better camera perspective that allows you to drive better and also spot enemies from long distances. On the other hand, the FPP driving mode is much limited. The focus is much more on the road, and the angle strictly forces you to focus on the road. There is a bit of drawback because you won't be able to see your enemies on the side. However, there is a slight advantage too. Players are not easily distracted, as they are driving. Consequently, the nature of driving in FPP is quite competitive however its dull. Moreover, driving vehicles in PUBG is already a headache, and driving in FPP is very boring.
If you are a casual player, playing a game on TPP is quite fun. The game becomes very easy to read, and if you have a little bit of skill. Chicken Dinners are possible. However, if you want to become good at the game, I won't recommend TPP. The mode is not good if you are in for Esports and long-term. Moreover, skill-wise, it is not the best to test you. Sometimes in TPP, you will get very frustrated with the number of campers. Everyone is abusing the TPP Camera while laying in bushes or hiding in a house. When they see a chance, they quickly get up and kill the enemy instantly.
On the other hand, FPP is not for casual games. The mode is very complicated and technical. You need to be really good if you want to win some games on FPP Mode. PUBG is a Battle Royale game filled with luck and skill factor. Now if you play the game in FPP Mode, there are high chances you will die due to skill scenario. Almost all fights are straight forward and camping does not exist. Driving Vehicles can prove to be fatal. Any stupid move is punished.
I'd highly recommend starting from TPP and then moving to FPP. There is much more freedom in TPP, hence you can always learn more and more things.
In Our Review, we gave PUBG a Solid 8, and it was ranked as the best battle game at Fontaine+.
Here is SpartaNNNN on PUBG
"Well, there are no online games that are perfect. PUBG has problems, but on the other hand, it offers a super unique and incredible Battle Royale experience. There is no level of getting better at PUBG. There are always ways you can lead your team, get better at aiming, and perhaps the smallest of things like driving or looting. I've played a lot of PUBG, and I keep coming back to it. I don't know if it's the Winner Winner Chicken Dinner message or the Kar98k Headshot from a mile away."