Intel's 10th Gen Core i9-10900k is one of the most power-hungry CPUs in 2020. It is also one of the hottest running CPUs we've seen so far.
Core i9-10900k temps and power draw:

A Chinese Weibo user examined an Intel Core i9-10900K for a little over 47 minutes with its power draw and maximum temps hitting 235W and 93C.
Wolfstame tests revealed that the 65W chip that features much lower clock speeds than the Core i9-10900K consumed only 224 Watts of power at full load. Furthermore, the temps were recorded at 92C Peak and 69C average.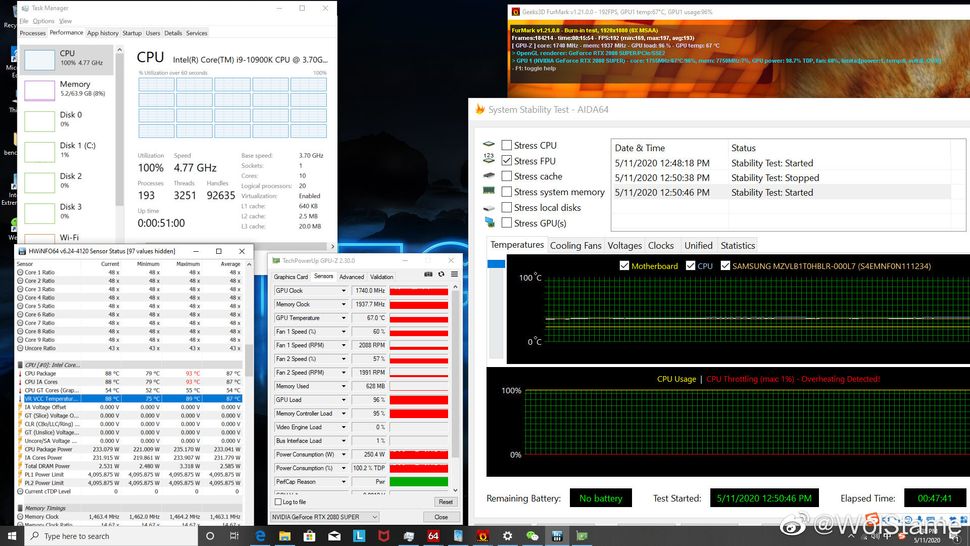 Using a 240mm AIO radiator, the Core i9-10900K consumed 235 Watts at full load in the AIDA64 FPU stress test. The chip also ran at a peak temperature of 93C and an average temp of 87C. That's an 18C difference between the Core i9-10900F and the Core i9-10900K. Additionally, the unlocked CPU does run at higher clock speeds and hence runs hotter and consumes more power at full load.
i9-10900k's Specs and features:

The Intel Core i9-10900K is the flagship CPU the 10th Generation Desktop CPU family. The i9-10900K features a 10-core, 20-thread design with a 3.7 GHz base clock and 5.3 GHz Boost clock. It uses an LGA-1200 socket. Intel Core i9-10900k supports
Up to 4.8 GHz All-Core Turbo
Up to 5.3 / 4.0 GHz Thermal Velocity Boost Singe / All-core Turbo
Up to 5.2 GHz Intel Turbo Boost Max 3.0
Up to 10C and 20T
Up to DDR4-2933 MHz dual-channel
Enhanced Core & Memory Overclocking
Active Core Group Tuning
Higher single-threaded performance
Higher Clock Speeds
Better Overclocking Capabilities
Stable Memory Support
Core i9-10900k's Shortcomings:
From a different perspective, the biggest drawback with operating temps this high is that you won't get to enjoy the i9-10900K's full potential. Apart from that i9-10900K leverages Intel's Thermal Velocity Boost and can hit 4.9 GHz on all cores. However, the temperatures must be below 70 degrees Celsius (158 degrees Fahrenheit). Once you cross that threshold, you're losing 100 MHz of performance on every core. 
You might be interested in: Microsoft Flight Simulator gets new mind-blowing images
If cooling was an important factor for a consumer. They must be warned about the Intel's Comet Lake-S processors.
Conclusion:
So far it is not looking good for Intel's new flagship CPU. Especially with AMD's Ryzen 3.1 launch. It will be interesting to see what average consumer experiences with Core i9-10900k, and what are their thoughts about it.