Humble Bundle, who is always publishing new discounted Gaming Packages, has come forward to support the #BlackLivesMatter Campaign. The Gaming Store which previously collected more than $6.5 Million for COVID-19 Relief Funds will gather $1 million to help publish games by Black Developers.
Ark Survival Evolved Will Be Free On Epic Games Store Next Week
In a Tweet, Humble Bundle wrote that they strongly condemn the violence against Black Community. Moreover, they will support the black developers by gathering $1 million in funds.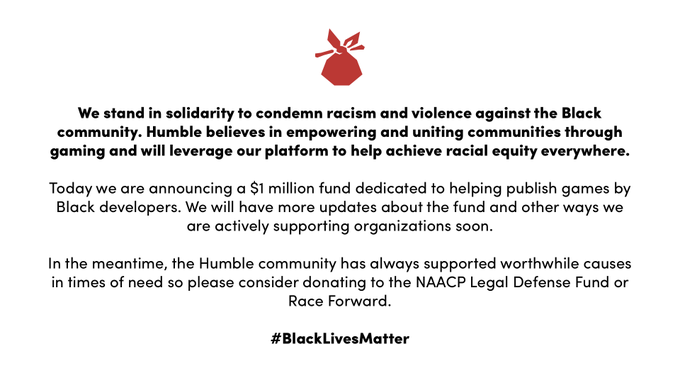 The Game Store wrote "Today we are announcing a $1 million fund dedicated to helping publish games by Black Developers. We will have more Updates about the fund and other ways we are actively supporting organizations soon"
We don't know much about this program and how it'll work. Most gamers do not care who made the game, and so far their program looks difficult to understand. Nonetheless, Humble Store has constantly come up with new fundings and charity, I'm sure they will handle it pretty well.
We will hear more from them in coming weeks!
PS5 Event Will Be The Biggest PlayStation Event With A Lot Of Games