GTA Games Significance.
Before we move directly into GTA 6, let's look at GTA and Rockstar.
Rockstar, in general, has always developed very popular GTA titles, that have broken several records. We look at Grand Theft Auto 5, which broke a total of seven records. The most notable record being "fastest entertainment property" to generate $1 billion.
Likewise, Grand Theft Auto: San Andreas, considered to be the greatest video game ever made also holds numerous records. GTA SA is the best-selling video game of 2004, it still holds the record for best-selling PlayStation 2 game of all time.
More records associated with Rockstar include Red Dead Redemption 2 being the most sold game of the past four years. Along with that, Grand Theft Auto V is the best selling game of the past decade. Well, the rundown goes on and our article isn't about Rockstar breaking records. We simply needed to give you a thought, how great Rockstar is with regards to making games.
Will GTA 6 Happen?
Yes, Rockstar is definitely making GTA 6, and the game base is already laid out. So far, we know that the game is either in the development phase or the final stages of testing are happening.
GTA 6 is in early Development Jason Schreier Report's
Let us start with Jason Schreier, who is notably the most trusted source when it comes to the video game industry. Jason was one of the first persons to actually give us a little hope that GTA 6 would happen. In April 2016, Jason Schreier wrote that Grand Theft Auto 6 is in "early development".
The reason why so little information was shared is that Jason did not specifically write about GTA 6. He was actually covering the cultural issues inside Rockstar when he came across the news about the upcoming GTA game. He covered this in his article which he posted on Kotaku.
GTA 6 is in Testing leakers Tezfun2 and Yan2295 confirm
His claim of Grand Theft Auto 6 being in early development was confirmed by Tezfun2 and Yan2295.  Starting with Tezfun2, who is actually connected to a lot of Rockstar employees. Tez is always sharing new leaks and news regarding Rockstar Games and he has a good reputation for being authentic
Tezfun2 said he won't doubt Jason, and he might be the right person to whom a Rockstar developer would give info. However, the game is 60% to 70% done. He means that Jason is wrong about early development. According to him GTA 6 is well-passed development phase.
According to various people on GTA 6 subreddit, they would rather prefer TezFun2's words over Jason Schreier. As I said, TezFun2 is a very reliable source when it comes to Rockstar leaks.
While we think Jason Schreier is always authentic regarding what he says. On the other hand, prominent leaker Yan2295, who is also quite trusted. Acknowledged GTA 6 would happen. However, he did not agree with Jason Schreier.
Yan2295 is a former Rockstar Games insider, and he has been involved in predicting a lot of GTA 5 and GTA Online events. He has stopped leaking Rockstar news because Take-Two contacted him and asked him to stop.
Yan2295 answered Jason's remarks and said
"I understand, but I'm telling, it's just not possible. Unless they have a very weird definition of "early stages". Maybe early stages of testing, sure, but not of development."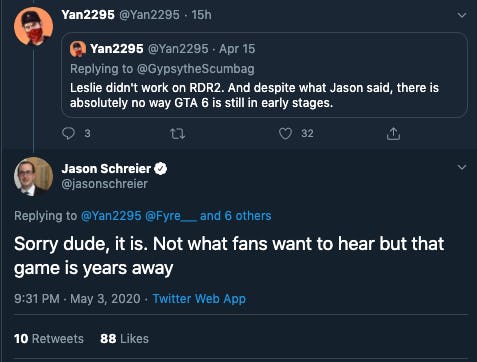 Presently we realize that three potential sources have affirmed GTA 6. Would we be able to believe two leakers' statement, that it is in early testing? or then again we could confide in Jason's words that it is in Development.
There is more proof that Rockstar is wanting to discharge GTA 6 and its in the testing stage, consequently leakers are correct.
Rockstar setting up staff for GTA 6 in India
Yes, you heard it right, Rockstar actually purchased a studio from Starbreeze worth $7.9 million in India. According to various sources Rockstar purchased this studio to set up a team for Grand Theft Auto 6. This news becomes more interesting when a GTA fan spotted something closely connected.
A Former Rockstar India employee had GTA 6 listed as an upcoming game on his resume. The employee was a Jr Vehicle Artist at Rockstar Games. Furthermore, his resume mentioned, "Create concept vehicles matching with real-world for GTA 5 DLC and upcoming GTA 6".
This happened around the same time when Rockstar purchased a studio in India, that hired Employees for GTA 6. Let's assume this person's resume is true, well then the game is halfway done.
Rockstar would only hire Vehicle artists when the whole map and game basic are done. This way they can hire employees for other game-related objects, that were not too important during the start.
Now that we know that GTA 6 is in development, and most probably in the testing phase. Let's look forward to GTA 6 Map and Location.
GTA 6 Map and Locations.
We know for a fact that the whole GTA series is very American. It portrays American culture, cars, songs, and most importantly Map. So far, we have had a lot of GTA games, and the majority of them were based in America. It would be rather right saying major GTA games were based in America.
GTA Liberty City-based in New York City
GTA 3 based in New York City
Grand Theft Auto: 4 Based in New York Cities
GTA Vice City Based in Miami & South Florida
GTA San Andreas based in San Francisco, Las Vegas, LA, California, and Nevada.
GTA Grand Auto: 5 is based on Los Angeles and California Coast Cities
Now we know that GTA is totally an American based game, can someone image GTA 6 based in a Foreign Country, like London or Tokyo?
GTA 6 Tokyo almost Happened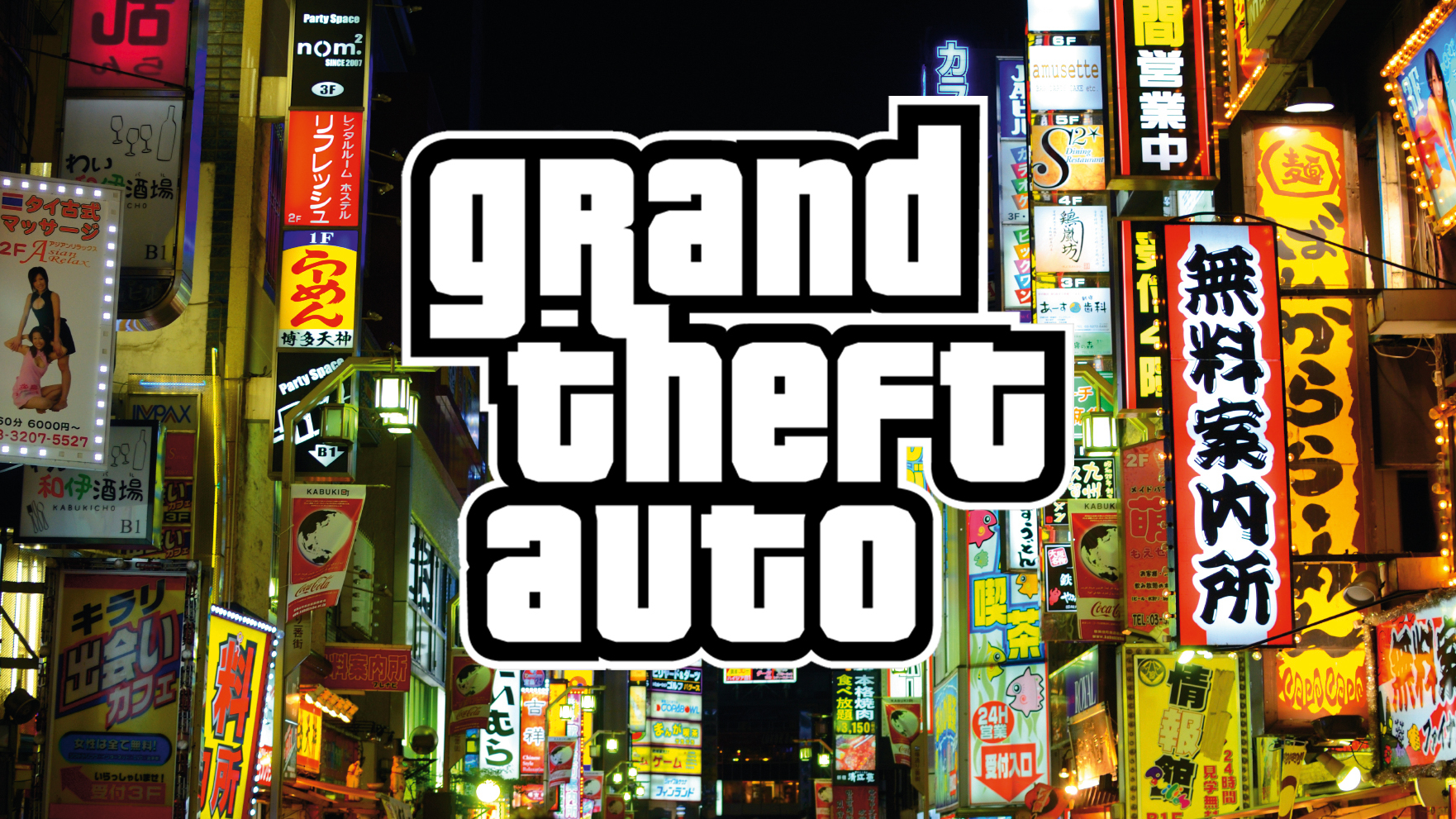 According to various authentic Reports going back to March 2016. Rockstar representative and officials were in Japan Tokyo to see weather this city could fulfill GTA 6 wishes. The game company took pictures of cities, various places, made maps, and basically considered their preference if GTA 6 Tokyo would happen or not.
Well, it did not end up well, and Rockstar initially left their plans for GTA 6 Tokyo. Most reports claim that Tokyo roads really upset Rockstar, and they left the city. It is understandable because most of the people in Tokyo use subways to travel, the roads are really thinner, and infrastructure is compact. A game like GTA would definitely not fit in.
Before people criticize us for saying that GTA 6 Tokyo is just a hoax. Well, it is not a hoax, because Take-Two in December 2003 filed trademarks for GTA: Tokyo patent. Along with that, they also went for Grand Theft Auto: Tokyo, and GTA: Bogata.
To clarify game maps are often leaked, and we have seen these leaks being true. For instance the most recent leak happened to be associated with Fallout 4. Various reporters spotted Bethesda developers in Boston and reported that Fallout 4 location will be in Boston, which turned out to be true. These reports are significantly true, and GTA 6 Map will not be based on Tokyo.
GTA 6 in London?
Rockstar did use GTA London in Grand Theft Auto: London 1961 and fans often wonder if London could be used again. Certainly there is a chance that London could be used again in the upcoming GTA games.
The main reason being that Dan Houser, former Rockstar co-founder thought that London was cool. In short Dan explained that games were limited back then, meaning London potentially was never used.
Similar Articles: Top 10 Battle Royale Games in 2020
"I think for us, my gut feeling is, GTA London was cool for the time, but games were more limited then. These days I think we would love to set a game in the UK, set in London, whatever, but I don't know if it would be a GTA game. I think there are plenty of great stories we could tell about the UK, great environments to showcase, great gameplay mechanics that could have a UK bent to them—I just don't think it would be a GTA necessarily." Dan Houser to Guardian 2013
Consequently, I am not sure if his opinion still counts because Dan Houser left Rockstar with complicated reasons. In the same vein, games like GTA 6 are usually planned 10 years before launch so there is something selected already. We just don't know much about it. Similarly, I searched for GTA: London or Grand Theft Auto: London patent, and it is not registered yet.
Rockstar is focused on American Cities
In my opinion, if GTA 6 London happened, it would be a surprise. Rockstar is an American company, they are very well based in America. The company has various agreements with the American Music industry, Car Manufacturers, and various Brands. I don't think they would move the GTA 6 map to a different country. If it were to happen, why did they not do In GTA 5 case? Why were GTA: Bogota and Tokyo patents left dead?
"We don't know what GTA 6 will be, but we've got some ideas. We've got about 45 years' worth of ideas we want to do. We'll pick the right ones. It comes from the idea first. Where it is going to be set is the first question. That then defines the missions; you're doing different things in LA than in New York or Miami. The map and story get worked up together, and the story is a basic flow of how it works out so you can layer the mission in." President of Rockstar North Leslie Benzies
Conclusion: So far, we have learned that
GTA 6 Map won't be based in Tokyo or Bogotá, both patents are dead.
GTA London or any Foreign Country has limited chances
High Chances of GTA 6 being set In Vice City Miami
We can well imagine that Rockstar actually brings back Miami, which was rarely used in GTA games. GTA Vice City was my favorite game, and I felt more in love with Miami and Scarface. If you didn't know, GTA Vice City has a lot of inheritance from the movies Scarface, Goodfellas, and LA Confidential.
There is a fan theory which also suggests that Miami and Florida could be used once again. It starts as a sequence from all GTA Games.
GTA 3 = New York City
GTA Vice City = Miami Florida
GTA San Andreas = California
GTA 4 = New York City again
GTA 5 = California again
GTA 6 = Probably Miami Florida again.
Rockstar scouting places for GTA 6 in Miami?
On 16 Oct 2019 various sources started reporting that GTA 6 Map will be based in Miami Florida. The news started because with Leah Sokolowsky, who is a Location Manager. She is hired by companies and asked to scout for potential locations that could be used.
Leah Sokolowsky was hired by Rockstar to scout interior places in Miami Florida. The good part about this particular leak is that it involves Interior places, so we have an idea that Development for a City has already been done. We are only looking forward to interior places for GTA 6 now.
Similar Reads: Tony Hawk's Pro Skater 1 and 2 Remaster coming on 4th September
A letter shared by Rockstar to Miami Florida was also leaked by a Redditor Fresh305954. The contract states
"the scout team's mission is to tour and photograph various interesting locations throughout the state of Florida. The research they gather and photos they take care on this scot will become part of the company's research library and will be used to inspire Rockstar's developers to build environments in their games that reflect real life environments.
It further mentions "We'd like to arrange to have Rockstar's team scout your property/business while they are here. As mentioned above, any photos taken during this scout will be used strictly for research purposes. Rockstar respects intellectual property rights and will not recreate protected artwork/sculptures"
This leak was once again confirmed by the popular Yan2295. According to him, the scouting is legit, however, he has doubts about the letter.
Further evidence supporting that this actually happened comes from Leah Sokolowsky herself. Leah talked about this in a Film Flordia Podcast. She explained that a very large client was able to hire her, and they are exploring various areas.
Another Sequence Supporting GTA 6 Map would be based in Miami
The myth starts from a sequence that suggests GTA 6 could happen in Modern Vice City/Miami. Here is how it starts
GTA 3 – Set in Liberty City
GTA 4 – Set in Liberty City in Modern Day
GTA San Andreas – Set in During 90s
GTA 5 – Set in San Andreas in Modern Day
GTA Vice City – Set in Miami Florida
GTA 6 – Set in Modern Day Miami Florida?
You might be interested in: New Mafia game could be released in the coming time
Modern Day is more like an HD version of these games. Liberty City, GTA SA, and Vice City were the old ones set in the 90s. The modern ones include GTA 5 and GTA 4.
I'd say that there are high chances it could happen but these leaks do not confirm it. Rockstar could be planning GTA Vice City in GTA 6 or maybe Miami in GTA 6. There is a high possibility that this letter simply means that Rockstar is finding places in Miami, just like they might have done with other places. GTA 6 could have numerous locations, and Miami is one of them?
Two places where I'd want GTA 6
Mexico
Mexico is not far from the United States, and Rockstar games could certainly invest there. A storyline involving Mexican Cartel and American Drug connection could also make a good story. There have been a lot of shows involving Mexican Cartels and their connections into the U.S., it always adds a good story. We can certainly wish if GTA 6 could be based in Mexico, but so far no rumors have connected GTA 6 Map to Mexico.
Chicago
In my opinion, Rockstar should really go with Chicago, and the reason is very straight forward. GTA 6 could be well established in the post-1910 setting when Italian American Mafia was around. That is to say Chicago is absolutely known for Mobsters. We know the likes of Al Capone, Machine Gun Kelly, Jim Colosimo, and many more started out here.
GTA 6 Release Date
Now that we have heard so much about GTA 6, what could be the release date. If we trust Jason's word and that the game is in early development, then we can imagine it'll release in 2022 or 2023. However, we will go with the leaker's word, because they are more reliable and GTA fans trust his words over Jason.
Suppose the game is in early testing as the two leakers suggest. GTA 6 could potentially release in 2021. The game could be Console exclusive, and a PC version could be released a year later. There is more evidence to the game being in early testing, than comparing early development.
The time gap between each game keeps increasing, so it is possible that GTA 6 could take much longer than 7 years. Above all, there are more reasons why GTA 6 is being delayed so much.
The Primary reason is GTA V Online and Red Dead Redemption 2. Both games have had tremendous success, and they keep growing. Rockstar has stretched GTA V Online a lot. In short a lot of Online events and content were released for GTA V. This shows the level of commitment they had for GTA V.
Along with that Red Dead Redemption 2 was released, which is likewise performing truly well. The game had a terrible launch on PC, despite that its numbers keep growing. In my opinion, the Red Dead Redemption 2 project must have delayed GTA 6.
Here is the reference to time gap, which kept increasing.
GTA 3: October 22, 2001
Grand Theft Auto: Vice City: October 27, 2002
Grand Theft Auto: San Andreas: October 26, 2004
Grand Theft Auto IV: April 29, 2008
Grand Theft Auto V: September 17, 2013
Rockstar has had a lot of ups and downs recently. First, co-founder Dan Houser left after which Rockstar stocks dropped 5%. Along with that, they have also faced various cases of not paying UK Corporation Tax. And lastly, their cultural issues continue.
Whatever the case is, we look forward to Grand Theft Auto 6. This game franchise never disappoints us. We will update this thread if more authentic leaks happened.
Is GTA 6 set in London?
There is a chance that GTA 6 will be set in London. We know this because Dan Houser spoke in 2013 "These days I think we would love to set a game in the UK, set in London whatever". So far there has been no leaks suggesting it'll happen in London though.
GTA 6 Release Date
GTA 6 will release in 2021 or 2022. We know this because Jason Schreier and two authentic leakers Tezfun2 and Yan2295 reported that the game is in development.
IS GTA 6 Happening?
Yes GTA 6 is happening and the game is not far away. Rockstar employee listed GTA 6 in His resume. Apart from this, Rockstar was also scouting places for GTA 6 in Miami, and Jason Schreier also reported game is in early development while investigating Rockstar's cultural issues.
Why was GTA 6 Tokyo cancelled?
Rockstar filed patent for GTA: Tokyo and also did scouting in the city. According to people, Tokyo roads really upset Rockstar, and they left the city. It is understandable because most of the people in Tokyo use subways to travel, the roads are really thinner, and infrastructure is compact. A game like GTA would definitely not fit in.