It is extremely irritating when you are in the middle of a task, and your PC pops up an error saying "Your PC will automatically restart in one minute, Windows ran into a problem and needs to restart, You should close this message now and save your work" From that point forward, there is no time to save work or end your game. The PC automatically restarts, and it continues occurring in a loop. This error is daunting, but don't worry. In this guide, I'll teach you how to fix this error in multiple ways.
Fixing Your PC Will Automatically Restart In One Minute Error.
Before jumping into the guide, make sure you identify the problem and see if the error is similar to this picture. Secondly, you should be able to log in to your PC and follow the guidelines. However, if your PC has been bugged out and you cannot access it, then you may have to boot using the safe mode. Learn more about starting your PC in safe mode here.
Disable Automatic Restart from Settings.
The error "your pc will automatically restart in one minute" mostly happens when your Hardware has automatic restart enabled in Startup and Recovery Tab. Let's disable this option and fix the error.
Go to My Computer and Right Click > Properties.
Under the System Section, Click on Advanced System Settings.
Now click Settings under Startup and Recovery in Advanced Tab.
Under the Startup and Recovery Section, Uncheck "Automatically Restart".
Click Apply and Ok.
This is the most effective fix for almost all users. However, if this did not work for you, do not worry. Follow these next methods to solve your automatically restart in a minute issue.
Similar Reads: Windows NT 3.5 and Xbox source code leaks online
Creating Windows Update Directory.
Some Windows users may not have a Windows Update Directory. Consequently, when the Windows Update directory is missing, your Windows will constantly crash whenever there is an update notification.
Open Run Box through Windows + R Button.
In the Run Box, Search "Regedit" without the quotation.
After that Click Local Machine.
Under Local Machine go to Software Tab > Policies > Windows.
Create a new folder, by Right-Clicking on Windows > New > Key.
Name the Key as "WindowsUpdate".
Once Again, you have to create a sub-key under newly Created Windows Update.
Right Click on AU, and make a QWORD Value. Choose either 64 bit or 32 bit, depending on your System.
Name the new QWORD Value as:
NoAutoRebootWithLoggedOnUsers
Right Click "NoAutoRebootWithLoggedOnUsers" and Click Modify.
Under the Value Data, set it to 1 and press Ok.
Now, Restart your Computer, and "your pc will automatically restart in one minute" error won't happen again.
Asking Windows to Notify A Scheduled Restart.
Often Windows 10 has automated updates that are scheduled for random times. This can interfere with your work timings, and sometimes while using your PC. The Windows will automatically update itself, and you will get the error "Your PC will automatically restart in one minute, Windows ran into a problem and needs to restart, You should close this message now and save your work". In order to fix this, we will have to change the automated scheduled update settings.
Open Start Menu > Settings.
Go to Update & Security and click Windows Update.
Under the Windows Update Click Advanced Options.
Change The Update Option Settings to the following:
"Recieve Updates for other Microsoft Products when you Update Windows" – Off.
"Download Updates over metered connections" – Off.
"Restart this device as soon as possible when a restart is required to install an update" – Off.
Enabling Show a Notification, When PC Requires a Restart.
This method is quite similar to Method 3. However, in this case, we will simply enable the Update Notifications. This will allow Windows 10 to send you a notification, whenever a restart is required. Often times, this is disabled and users are immediately looked out with the restart loop error. Let's apply this simple method to fix the error.
Open Start Menu and Search for Settings.
Under Settings Tab > Windows Update > Advanced Options.
In Advanced Options Tab, Enable "Show a notification when your PC Requires a restart to finish updating".
Enabling Metered Connection.
Enabling Metered Connection is another way of fixing the automatic restarts, and Windows Updates. Metered Connection means an internet with data limitation. When this is enabled, Windows won't automatically download updates and random restarts won't happen. When Metered Connection isn't enabled, Windows considers your Internet as Cellular data.
Related Articles: Wait for OnePlus Z instead of buying OnePlus 8
Suppose all these methods did not work for you, and you are still getting "Your PC will automatically restart in one minute error."
It's time to try the Metered Connection method, which will disable your Automatic Windows Updates. That is mostly responsible for the restart loop issue.
Goto Start > Settings > Network & Internet.
Under Network & Internet Tab go to Wi-Fi, and Manage Known Networks.
Select the Wi-Fi Network > Properties > Turn on Metered Connection.
Another way to simply enable metered connection.
Start > Type Metered Connection.
Click the First Result, and Enable Metered Connection.
Troubleshoot the Restart Loop Issue.
Troubleshooting the problem through Windows is another way of fixing the restart loop issue. Moreover, if you are also getting "We're just collecting some error info, and then we'll restart for you" error. Then, you should also try this method.
Restart your PC 3-4 times, Until Screen like this appears.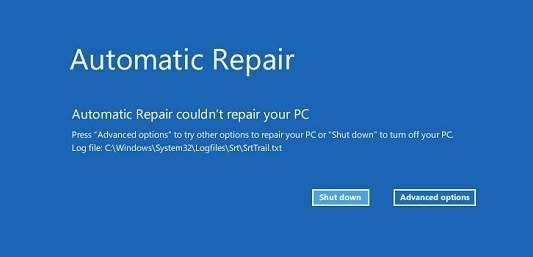 Under Advanced Options > Click Troubleshoot.
Wait for the System to finish troubleshoot, it'll take 5-10 minutes.
Upon scanning, if any issue was found, make sure you fix it.
After the Issue is fixed, restart your PC Once More.
Doing System Restore.
Yes, System Restore is another solution for fixing restarting in 10 minutes loop error. A Microsoft official Agent recommended this to several people on its forums. According to Microsoft, the infinite reboot of PC is often caused by viruses. So in order to get rid of the virus, you can do System Restore to a point before the virus was installed. Steps are quite simple and straight forward.
Go to Start and Search for System Restore.
Click the "Create a Restore Point".
Under System Protection, Click on System Restore.
Now it'll be wise to select the most recent System Restore and restore to that.
Second Restore Option: If you remember, the date your PC started Restarting in a Loop. Then, you can also restore to a point before that date.
Many people have complained that the Restarting in 10 minutes error does not allow them to get into PC. There is another way you can access to Restore Point as well.
Restart your PC, and get into Boot Options.
Select Safe Boot and Boot through that.
After Windows is fully loaded. Click Start and Search Create a Restore Point.
Under Restore Point, Click System Restore as indicated in the picture above.
Restore to a specific point, and see if the problem is fixed.
If you restored to the newest date, and the issue did not fix. Then, I'd highly recommend restoring your PC to point before that. If that did not work either. Afterward, you should keep restoring it to previous points. Moreover, If your Windows is still restarting in a loop and the problem is not solved. Then, try the following methods.
Hardware Temperatures.
Numerous cases across the internet found that High Hardware Temperatures were causing the PC to Crash. Hence, whenever it crashed, it showed the error "Your PC Will Automatically Restart In One Minute". The PC Restart allows the Hardware Temperatures to cool down. Likewise, once they rise up, it crashes again. And this process keeps happening in a loop. Some of you might be thinking, well this fix looks irrelevant. The problem is that, when Windows Crashes all sorts of errors are displayed. Relevancy has nothing to do with the problems.
Checking Hardware Temperatures.
Download Speccy.
Install the Setup and Run the Program.
Make sure your Ideal Temperatures are Below 60.
Run a heavy program, and make sure the temperatures at load are below 80.
If your temperatures are higher than recommended, then you should get a new thermal paste, like ARCTIC MX-4 for instance. Apply that with proper technique, and your temperatures will significantly improve.
Repairing the System Files through SFC & DISM Command.
SFC commands are very useful to fix Windows System. The command simply scans your PC for corrupt files & repairs them. Moreover, SFC Command also ensures that your PC does not have any corrupt files. Let's run the SFC Command to fix the restart loop error.
Right-Click Start Button > Command Prompt(Admin).
In Command Prompt, Type:
sfc /scannow
Now you have to wait for the scan to finish, and if there were no corrupt files. You will get the message "Windows Resource Protection did not find any integrity violations". However, if the scan found some errors, & displayed the message "Windows Resource Protection found corrupt files but was unable to fix some of them". Then you will need to boot it in safe mode and repeat the method.
Similar Articles: PUBG TPP vs FPP, Which One Should You Play?
Suppose, the SFC Command did not fix the error for you. And, repeating the process in safe mode did not work either. Then you should try the DISM Command. DISM Command is another way to fix some deeper Windows Problems, these can also include the corrupt files that are causing restart in a minute error.
Running a DISM Command.
Right-Click Start Button > Command Prompt with administrative privileges.
Under Command Prompt, type:
DISM /Online /Cleanup-Image /RestoreHealth
Press Enter and wait for the scan to complete.
Changing Ram Slots.
Sometimes, the Ram's on our PC can cause a lot of trouble. Usually, there aren't a lot of fixes to ensure that Ram is not causing any de-stabilizing. However, what we can do is that we can swap rams and their slots. It is recommended you leave a gap between your rams. This allows your System to get Dual Channel performance, which is highly recommended.
Changing Ram Slots is not hard, just follow these steps
Take Out Your Rams and Clean them gently.
Use the 2-4 Formation or Check your Motherboard Manual.
Updating BIOS To The Latest Version.
Updating your BIOS can also fix your restarting in a minute error. Sometimes, Motherboards face issues, and manufacturers release a newer BIOS for them. However, most users miss out on updates due to the complication of updating to latest BIOS. I can assure you that it is not that hard.
See your Motherboard Model Through Speccy.
Copy and Paste it in Google along with "Latest BIOS Version".
It'll take you the Motherboards Page > Download the latest BIOS Update.
Unpack the Downloaded Zip File and Read the Installation Guide in the Text Document.
If you want to try the common method, then copy the 2NQ File.
Paste the 2TNQ it into an empty USB Drive.
Boot your Windows and Press BIOS Button (Usually F12).
Go to BIOS Section > Boot Through USB Drive.
Updating BIOS is not that easy, but it is not that hard either. Before trying our method to update bios, make sure you read an in-depth guide of updating BIOS on the Internet.
Updating Windows To The Latest Version.
Restarting in a minute error is also caused by older Windows Editions. In order to ensure, that you are running the latest Windows version, that has little to no bugs. You will have to update your Windows to the latest version. Follow these steps!
Go to Start > Settings.
Under Control Panel > Update & Security.
Now Go to Updates, and a page like this will appear.
Click at "Check for Updates", and if updates were available. Hit install.
Conclusion.
Well, to conclude, I'll say that the restart loop issue has various fixes. I've covered most of them in this guide, and I'm sure they will work like a charm for you. Moreover, this is not the first time Microsoft Windows are facing the restart in one minute error. The issue first started from Windows 7, and it kept happening in Windows 8 and Windows 10.
If your Windows is displaying any similar errors like "Your PC Ran into a problem and needs to restart, or others. Simply test all these methods to fix it. Further, I tested the fixes on Windows 10, however, these fixes are also possible on Windows 8 and 7.
Despite trying all of these mentioned methods. If your PC is still getting the restart loop error, then I'll highly recommend you to head over at Microsoft Forums and discuss it with moderators. Other than that, I'd also recommend you to fresh install the Windows and Format all your Drives.