Earned a few bucks from robbing trains or completing missions? spent them somewhere and now you are poor, looking for more money.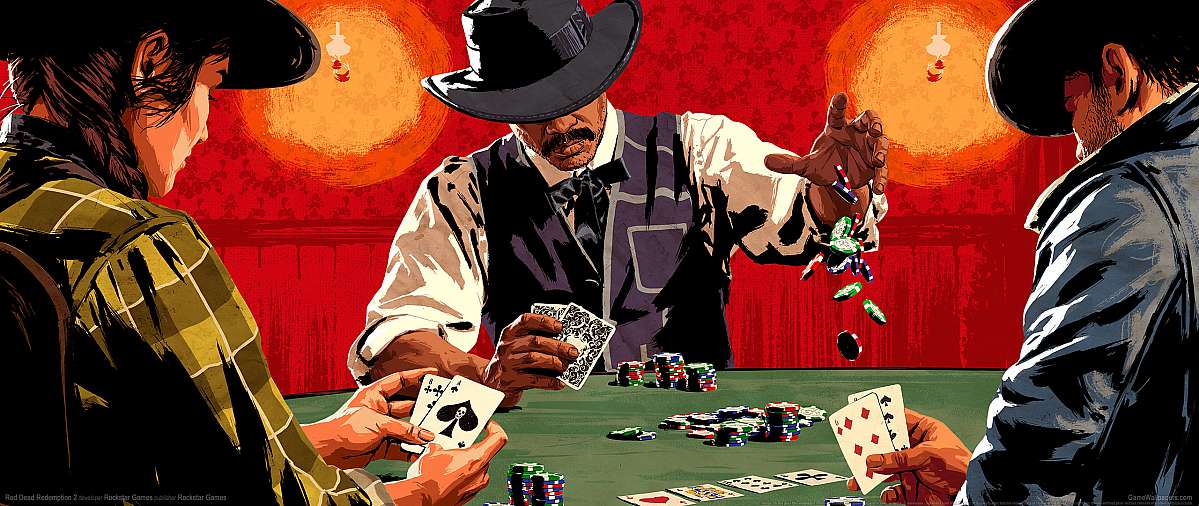 Well, I won't lie, I've been there. Once you buy something in Red Dead Redemption 2, there is a guilt of being poor and at the same time, you are looking for more ways to increase the net worth.
High Stakes Treasure Maps are really the best of options when you want to get free money without doing a lot of effort. Further, I won't say it's boring, because you can explore new places, and there is quite a bit of adventure as one clue leads to another. Most Importantly, you get decent trade and money at Fences.
Before we jump to the High Stakes Treasure Map locations. Here are a couple of things you should know.
Firstly, killing the Treasure Hunter won't change anything. I've read a lot of misconceptions, regarding the treasure being lost after you kill him. The best way to get it from the Treasure Hunter is to lasso him up and then loot him. Secondly, there are a total of Four Treasure Hunts. The first three are only clues that lead you from one to another. The actual treasure Hunt Is on the fourth map, which will reward you with three gold bars, that can be sold at Fence for $1500.
First High Stakes Treasure Map Location
The first Treasure Hunter can be found In West Elizabeth, above Riggs Station. The treasure hunter is mostly wandering around this patch, and you might hear his voice from distance. Most players Including me have spotted him at this Cliff.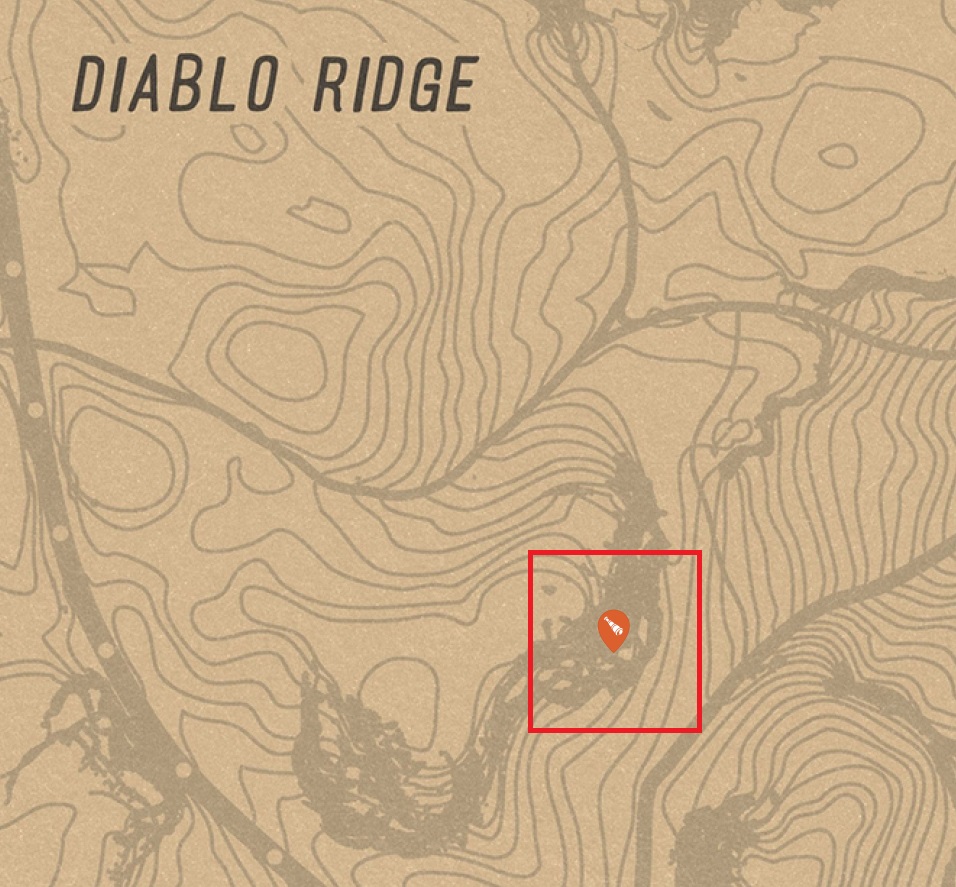 As you find him, do not run towards him because then he might get away. The most ideal way like I said In the first paragraph, would be to hogtie him and then loot him. In addition to that, always make sure you are searching for him between 10 to 12 AM, the odds are higher. Sometimes, the Treasure Hunter runs away, and If that happens, then you will be left with two more attempts. Subsequently, If you were still unable to get the map. The map will be then sold at Fence, consequently paying money to continue forward.
This treasure map can only be obtained In Chapter 3's mission, The New South.
Second High Stakes Treasure Map 2 Location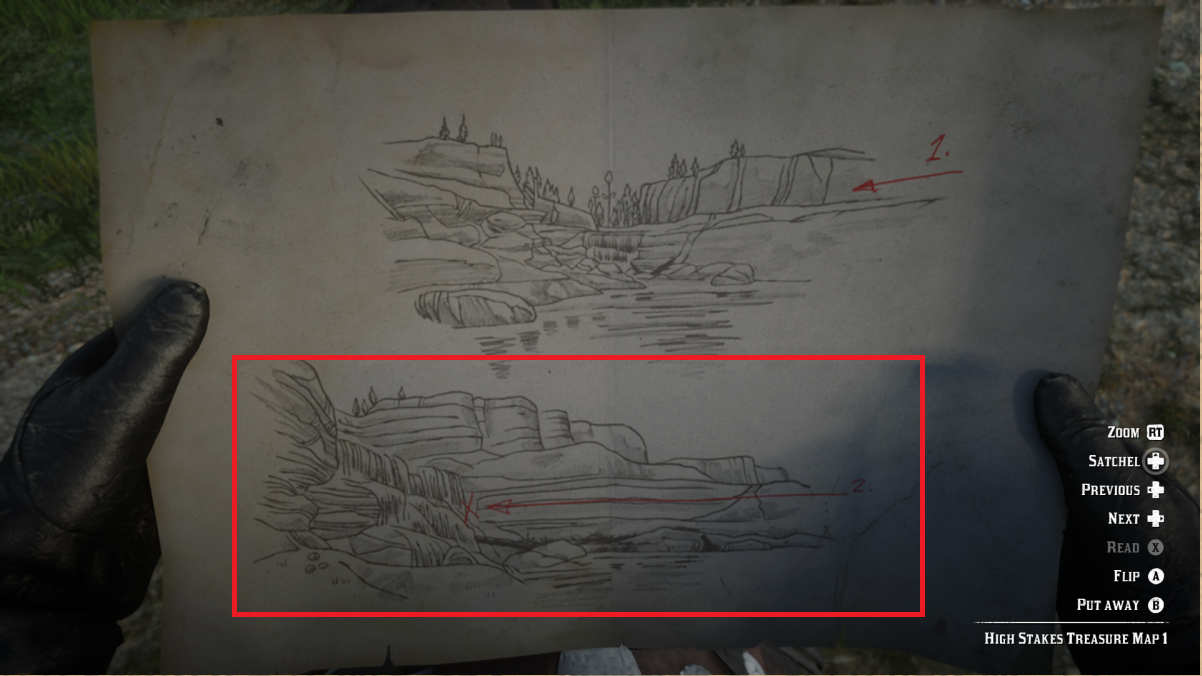 Once you find the first high stake treasure map and open it. You'll see there is some sort of diagram representing a cliff, waterfall, and mountain.
This map is now pointing to the location of High Stake Treasure Map 2, which is located In Cumberland Falls, east of Wallace station. This cliff is located exactly at this point.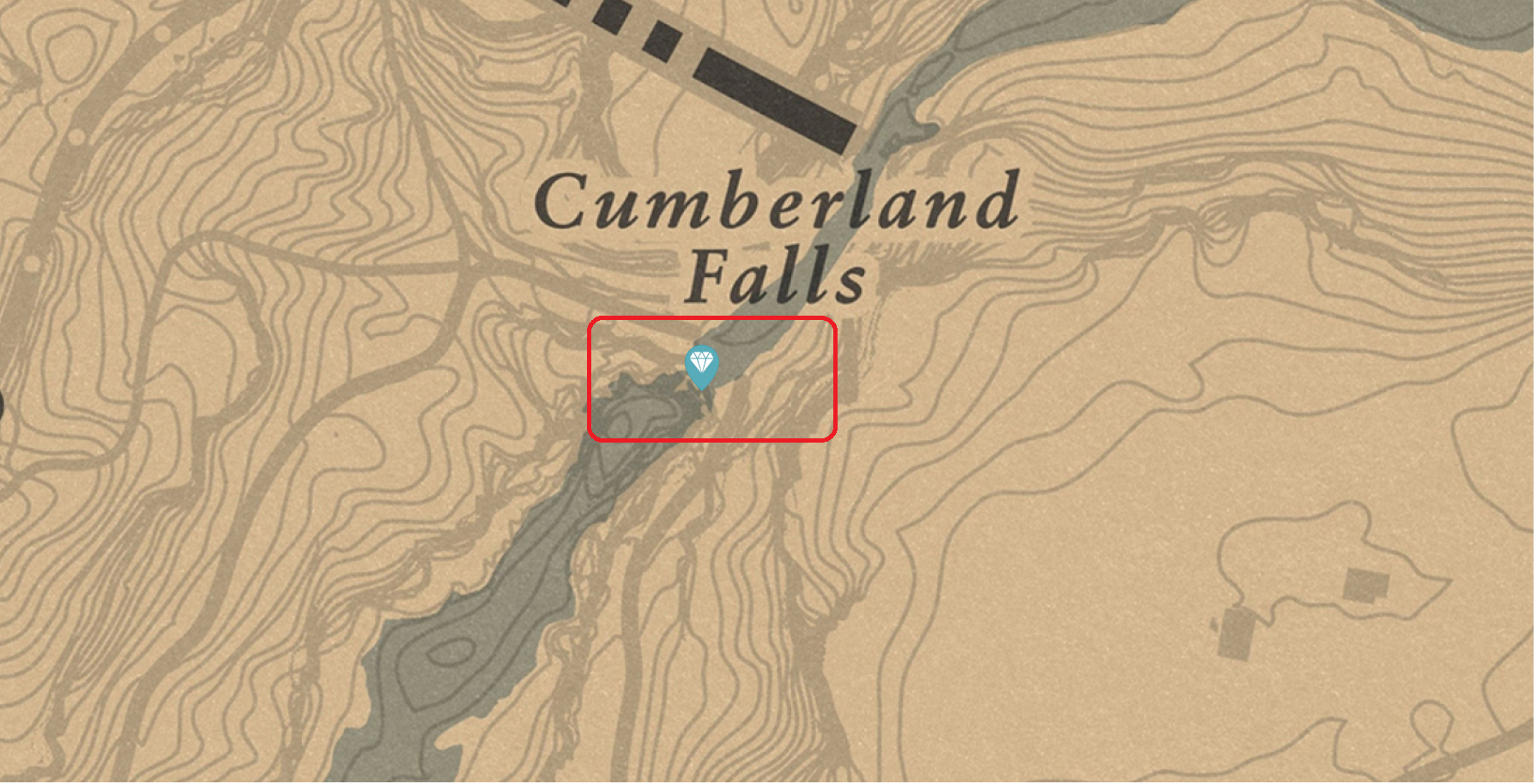 There is a little entry, that leads from the road to the waterfall and cliff. Once you are there, you can stroll behind the waterfall, climb up the ledge, and see it below a rock In the corner. At first glance, It will look weird, but yeah, you can actually go past the waterfall, just give it a try.
Here is the picture of that ledge and waterfall, you will find south of Cumberland Falls.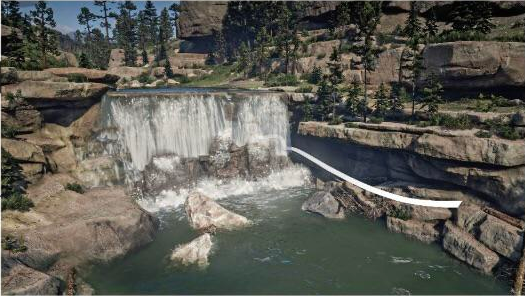 Remember, there is no skipping on either treasure map. All of them are interconnected, and If you fail to find this one, there is no Treasure Map 3. For 100% completion, you must find all four of the treasure maps.
High Stakes Treasure Map 3 Location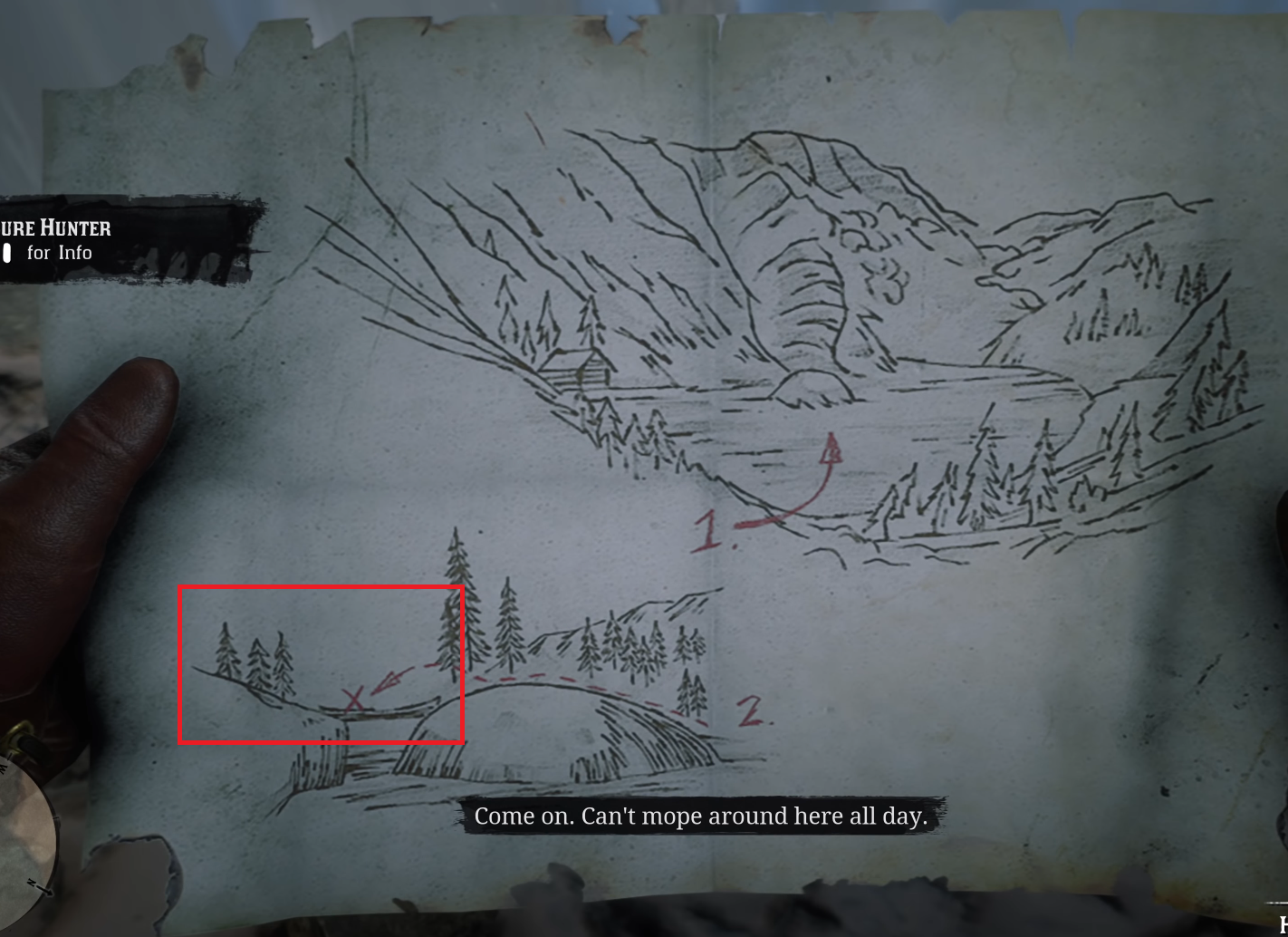 The Treasure Map 3 does look like a mystery, but trust me it is probably the easiest to find.
All you have to do is go to the Ambarino region, north of Grizzlies West, and at this particular point on Barrow Lagoon, you will find the Treasure Map 3. There is a log laid in the middle of a creek joining two points. The treasure map is right In the middle of the log.
In case, you were still having problems finding treasure map 3. Here is the picture from Red Dead Redemption 2 of the exact place.
There is a log laid in the middle of a creek joining two points. The treasure map is right in the middle of the log.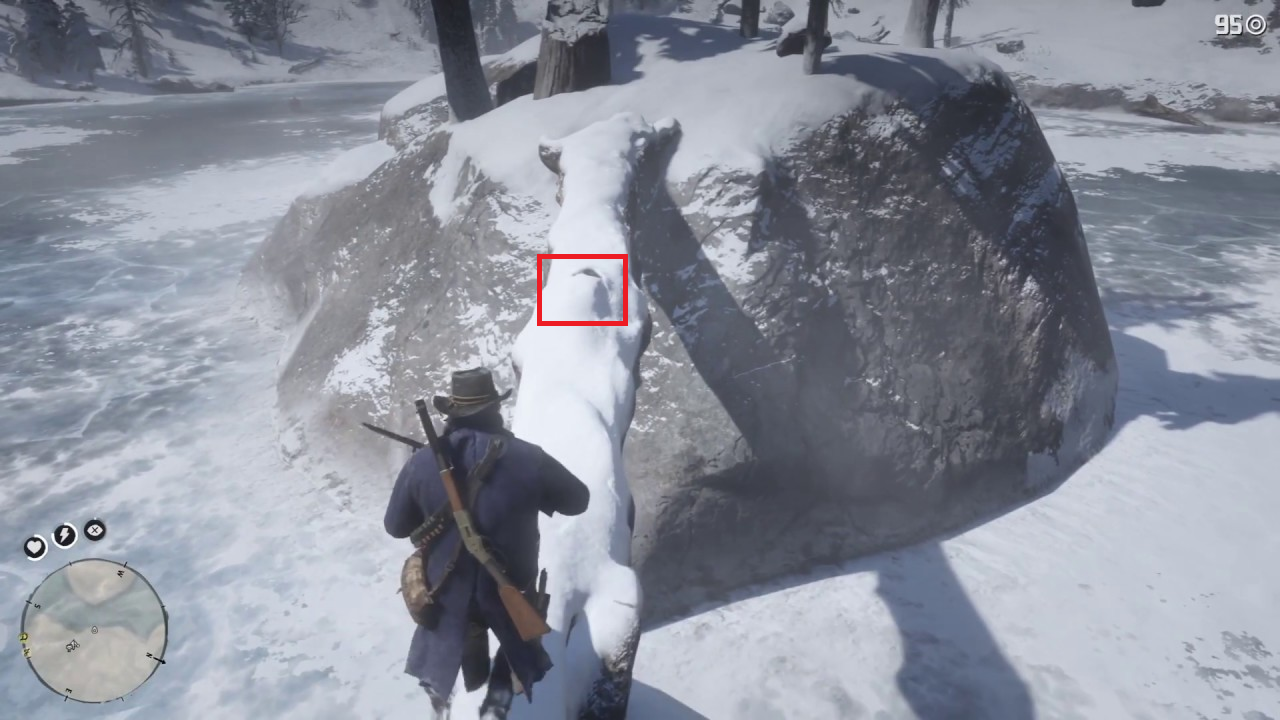 The Final High Stake Treasure Map Location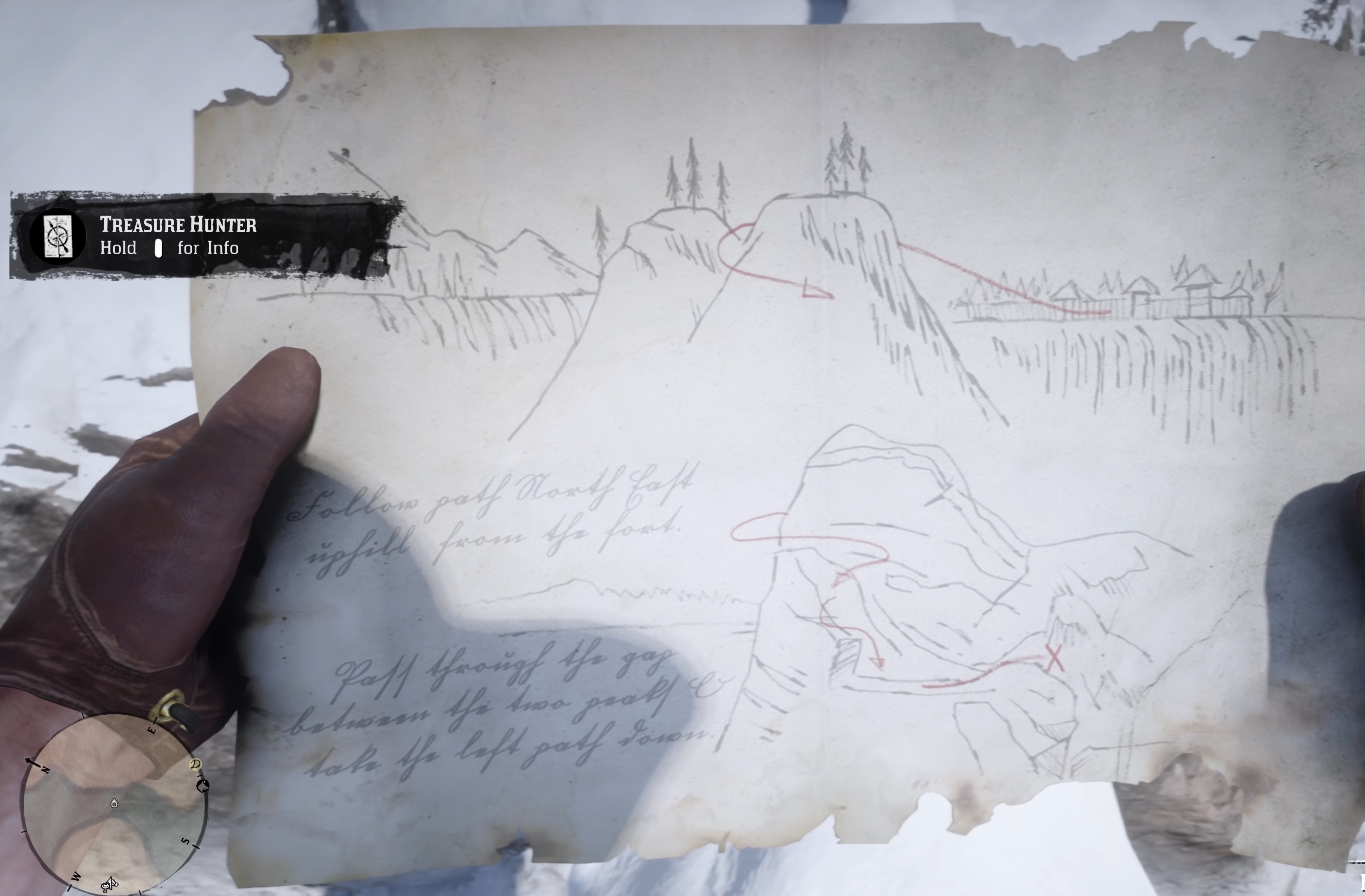 Like I said in the first paragraph. The first three treasure maps do not get you something. In other words, they only connect one treasure map with others. The actual treasure map that will get you something is the one you have found at Barrow Lagoon. This is the final map, that will lead you to a treacherous cliff, where three gold bars are waiting to be retrieved. Here is the treasure map, you must have found In treasure hunt 3.
There are also some Instructions on this treasure map, that will give you a little bit of a clue.
Follow the path from North East
Uphill from the fort
Pass through the gap
Between the two peaks and take the left path down
Keep these four instructions In mind, because you will be needing them later. To find this final treasure map, you will have to go to Bacchus Station, North of Fort Wallace.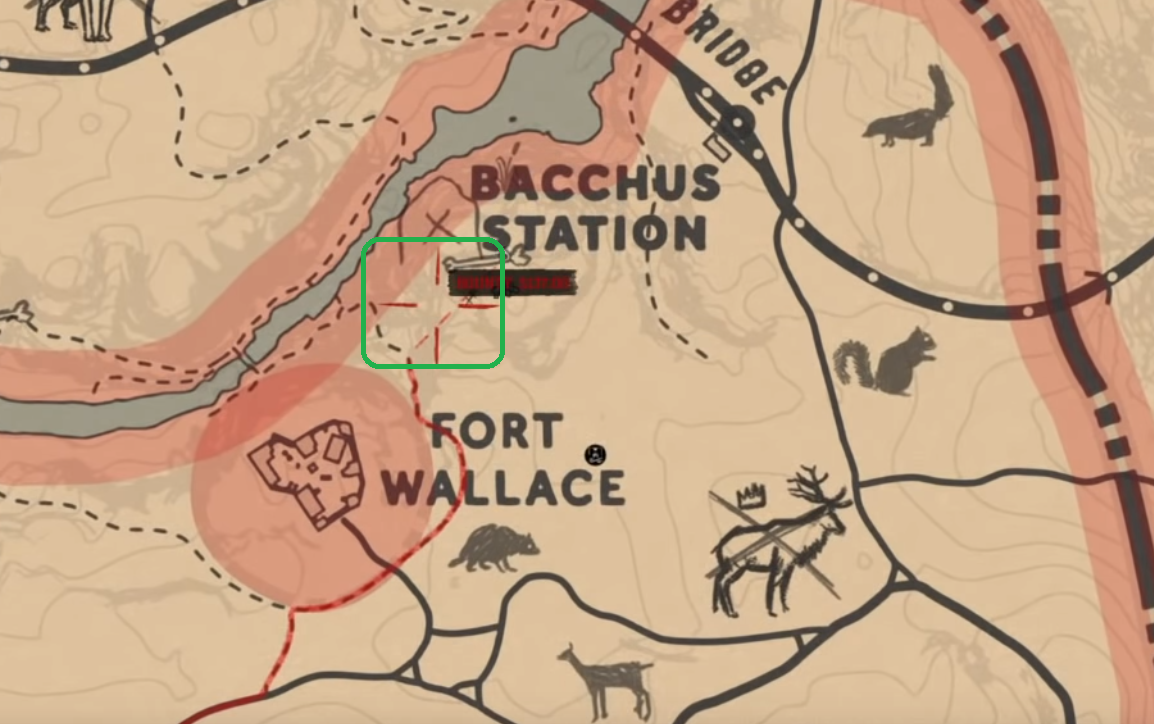 If by any means, you were unable to locate Fort Wallace and Baccus Station. Here is the wider picture of the entire point. The red square points to Baccus Station.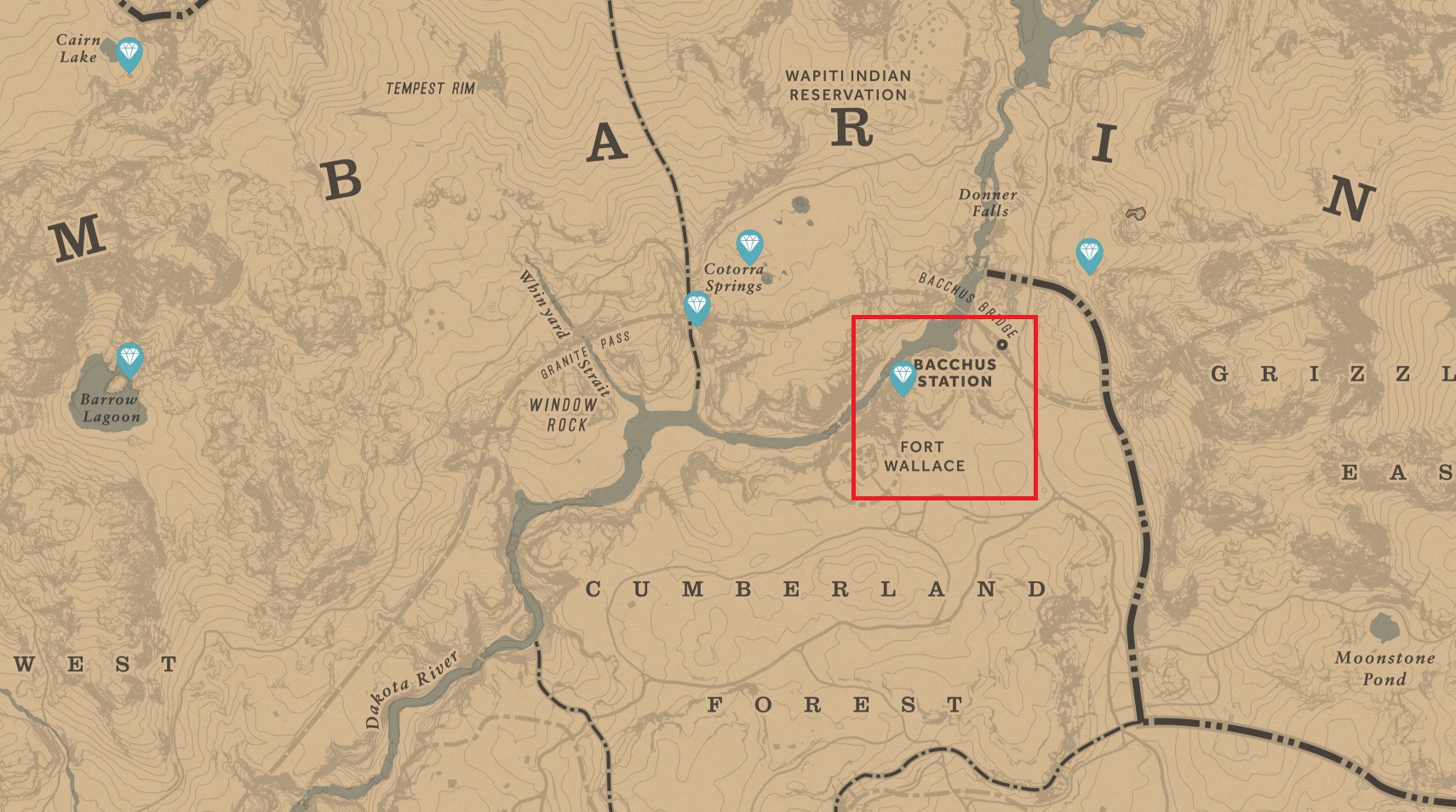 Now that you know where Bacchus Station is, it's time that we find where these three gold bars are hidden. There is a huge treacherous path along this cliff on Bacchus Station. You will have to focus on going down and make way on the steep ledges. There is a clear path, so do not get confused in the wrong directions. At one point, you will find a small rock, that would require you to crouch. Once you do that, Arthur himself will grab the 3x Gold Bar's hidden inside the rocks.
Here is a YouTube Video from Slaytanic to help you sort it out.
This is presumably the hardest Treasure Hunt but remembers it's the most important one. The problem that most players face is that the cliff is too steep, and with one wrong button, you are dead. The respawn is then frustrating, as you probably start all over again. I'd highly recommend using a keyboard instead of a controller, whenever attempting this treasure hunt. Other than this, be patient because it takes two to three attempts. The gold you get is really good, and Important for progression.
There are a lot of other ways to get free money In Red Dead Redemption 2. I personally find looting gang hideouts to be most entertaining.